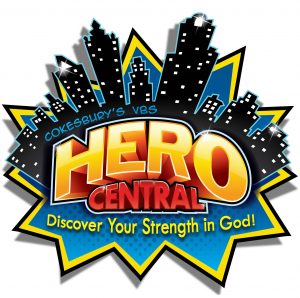 Discover Your Strength in God at Hero Central!
Join us this summer at Hero Central VBS where kids will enjoy an interactive, energizing, Bible-based good time as they discover their strength in God. They will become Heroes and explore how to serve God and God's mission for their lives.
After a high-energy opening assembly at Hero Central, the kids will participate in activities including: making their own art projects at Craft Headquarters, singing new songs at Music Headquarters, exploring the wonders of creation at Science Headquarters, playing games at Recreation Headquarters, and enjoying tasty treats at Snack Headquarters.
Who: Children ages 3 to 6th grade
When: July 31 – August 4
Time: 9:00 AM to Noon
Cost: Free!
Register by July 7th and get a FREE T-Shirt!
If your child attends Child of Faith Preschool, then you do NOT need to register them, because they will go with their class!
Questions?  Please contact our VBS Director or Church Office.